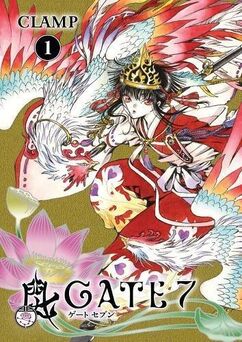 Gate 7 (ゲート セブン Gēto Sebun) is manga series from the well-known all-female artist team Clamp.
It was originally published as a one-shot in December 2010, and later began serialization in the March 2011 issue of Shueisha's Jump Square magazine. The manga is licensed in English in North America by Dark Horse Comics.
It concerns a young student who visits a shrine in Kyoto and meets a beautiful childlike female-looking warrior who invites him to fight supernatural enemies.
Gate 7 debuted as an one-shot in the monthly Japanese manga magazine Jump Square in the December 2010 issue, before returning to the magazine as a serial in the March 2011 issue. Four bound volumes have been compiled and published from June 3, 2011, to February 4, 2013.
Dark Horse Comics licensed the series for an English-language translation in North America and published the four volumes from October 19, 2011, to July 17, 2013. It has also been licensed in Spain, France, Germany, Brazil, Hong Kong, South Korea, and Taiwan.
Main Article: List of Volumes